3.5 million are homeless each year.
1 in 30 children will be homeless this year.
35% of the homeless population are familes with children.
This is NOT OK! As followers of Christ we believe that the church must take a stand and work for the elimination of homeless, especially as it relates to children. In order to do this we partner with Family Promise, who has the mission of ending family homelessness. At our church we partner with Family Promise by hosting families overnight who are experiencing homelessness as they work a program of getting into a permanent housing solution. This ministry at our church requires the help of many volunteers to cook dinner, play with kids, help with setup, and spend the night.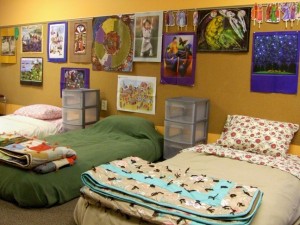 More About Family Promise
Family Promise gets results – eighty percent of the families we have served have transitioned to stability and housing. Since their beginning, they have helped over 650 families and 1,200 children transition to self-sufficiency. And no, not all of the congregations share the same beliefs. But one thing we all agree on is that poverty is not a good idea.
Family Promise of Greater Chattanooga currently offers four programs to help end family homelessness in our area:
The IHN Overnight Shelter Program is the traditional, faith-based program that operates in area congregations and continues to provide food, shelter and hospitality to families in need. Over fifty area churches and synagogues currently partner to host and support efforts to provide temporary housing for our families, which is truly a cost-effective mobilization of community resources. Seventy-five to eighty percent of families exit this program to stable housing, either employed or with income supports if disabled and securely linked to supportive and follow-up services.
The Family Promise Day Center Program provides food, transportation, day shelter, shower and laundry facilities, case management, life skills and educational classes, computers to develop resumes and apply online for jobs and housing, indoor and outdoor play areas for children and a nap room. As the name suggests, families stay here during the day.
The Centralized Intake Program provides intakes, assessments, case management, emergency assistance, and secure linkage to existing community resources for supportive services, guiding families to services, and housing.
Our Going Home Program is a partnership between Family Promise, the Chattanooga Housing Authority, and local builders and property owners. Family Promise screens and selects families for placement in public and renovated and newly constructed housing, and provides one year of case management services where property owners can access assistance and guidance from a case manager for any family issues.
Take some time to explore more about Family Promise here on their website.