Children's Ministry
8 weeks old through 5th Grade
so that:
Children establish a foundation for an ongoing relationship with Christ
3RD GRADE BIBLES
September 19
It has been a long standing United Methodist tradition to gift 3rd graders a Bible from their church. This is one of my favorite times of the year! If you have a 3rd grader please register them for their Bible HERE. Bible Sunday will be September 19 in both services, you choose your service at registration. Also, we invite all 4th graders this year who didn't receive their Bibles last year (register them at the above link too)
Learning to Use My Bible Class
Okay, the name sounds boring but I promise this class is a lot of fun and every year kids leaving saying how much they enjoyed it. The class will be Sunday, September 19 from 12pm to 3pm. We need help with lunch, sign up HERE  to bring food.
**WE ALSO INVITE ALL OUR 4TH GRADERS TO THIS CLASS SINCE THEY MISSED IT LAST YEAR.**
FAMILY NIGHT HAYRIDE AND BONFIRE
October 24, 6pm to 8pm
Everyone is invited to the home of the Roberts for an evening of fun and worship around the bonfire. We will have a hayride, food, and pumpkins. Remember, family nights are for anyone who is a part of the church family and we also encourage you to invite your neighbors, friends, and family.
FAMILY ADVENT NIGHT
November 28, 6pm to 8pm
Come prepare your family, hearts, and home for Advent. This night is open to everyone in the church. We will meet in the Student Center Gym.
Children of all ages meet Sunday mornings at 10am for Sunday school . Children and Students, birth through graduation, utilize the GROW Curriculum.
During Worship (9AM & 11AM)
Kindergarten through 5th are encouraged to attend worship at 9am or 11am with their families. Children's activities and moments are in each service. We believe it is important for children to participate and be a part of the worship service.
Childcare is available for children 8 weeks to Pre-k during all services.
Route 45 is for all 4th and 5th graders and their friends. We meet on Sunday nights from 6:30pm to 8:00pm. We have various trips, retreats, and events throughout the year designed with our tweens in mind.
We value the differences in us all. We want to meet all physical, emotional, and spiritual needs every time your child comes to church. Let's work together to develop an individualized plan to help meet the needs of your family.  Please contact Chrissy Gray at cgray@ooltewahumc.com to schedule a meeting.
When leaving your child in the children's area it is important to alway update your family information or pre-register to make check in a breeze.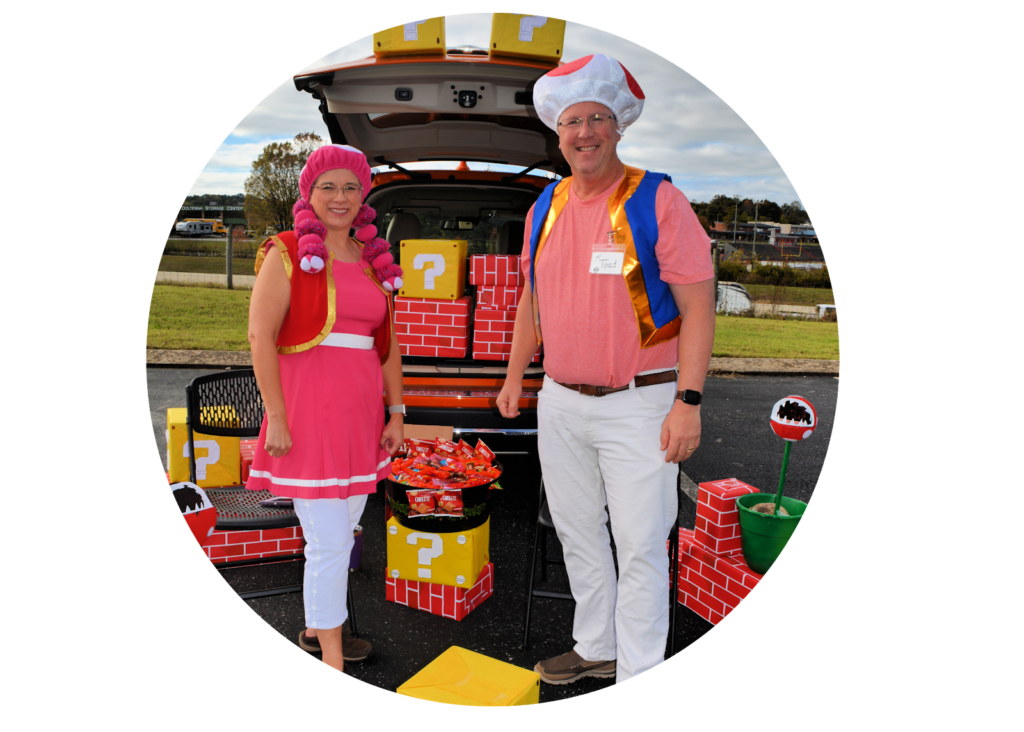 Keeping everyone safe is important to us at OUMC.  All volunteers and staff fill out an application, undergo a background check, complete yearly Safe Sanctuaries training, and complete Safe Gatherings training/new background check/reference check every three years.  You are welcome to view our safety policy HERE.
If you would like to serve in children's ministry please click HERE or contact Chrissy Gray for information and an application at Cgray@ooltewahumc.com.
Welcome Team

Elementary Small Group Leader

Preschool Team Teacher

Sunday Night Tween Helper

Wednesday Night Preschool Leader
A safe environment for all children, volunteers, and staff.
Each child and their unique personalities.
Christ centered relationships between child and trusted adults.
Equipping those serving in children's ministry.
Families participating and serving to reach more families for Christ.
Multi-generational activities.
Support and resources for families to grow closer to each other and God.
Opportunities to serve in diverse worship settings, missions, and the larger community.
Curriculum that builds over time from birth to graduation to help students grow spiritually and in knowledge.
Methodist milestones of faith.
We believe in connecting your children with wonderful caring leaders who will pour into your kids each week year after year but we also know that faith sticks at home. We want to partner with parents and give you the resources you will need to help grow your child's faith. Follow up questions and devotions are sent home each week. We have a parent resource center with books, articles, worship activities, and many other resources.  We also have many parent gatherings and family events.